Every month we will be randomly drawing prizes for people who follow www.twitter.com/celestethorson

In October we celebrated Breast Cancer Awareness month with a pink ribbon contest.


Congratulations to Angie & Tristan, the
two lucky winners who won by tweeting!
WON BY www.twitter.com/pricousins from Maryland
Pink Ribbon VIP
by
CelesteThorson
coffee mug
on zazzle
VIP PINK RIBBON 11 oz. MUG FOR BREAST CANCER AWARENESS:
Tweet to Win Pink Ribbon VIP Mug 4 Breast Cancer RT & Follow @CelesteThorson Random Winner Selected on Halloween http://bit.ly/soLXn Tweet2Win
PRIZE #2

WON BY
www.twitter.com/takehimaway from Arkansas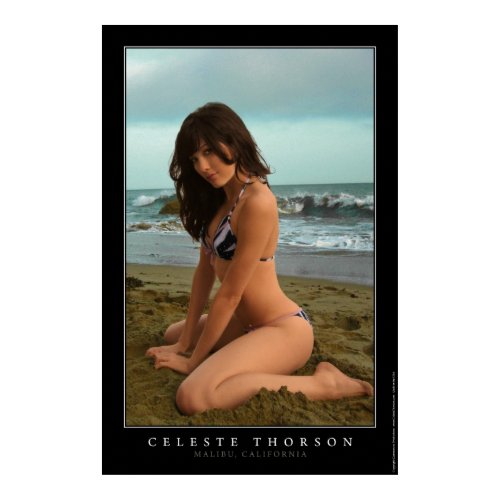 Celeste Thorson Malibu Bathing Beauty in Bikini
by
CelesteThorson
View other
posters
at Zazzle
CELESTE THORSON BATHING BEAUTY 11"x16" MALIBU BIKINI POSTER
Tweet to Win Celeste Thorson Bikini Poster RT & Follow @CelesteThorson Random Winner Selected on Halloween http://bit.ly/38PakITweet2Win
RULES:
All entries must be received by 11:59 PM PST October 30, 2009. The winners of the prizes will be announced on Halloween Day, October 31, 2009.
1. Each time you tweet either of the messages as described above the tweet will be counted as one entry. There is no limit to how many times you can tweet.
2. Winners of prizes will be published on Celeste Thorson's various social networks and website and will be contacted via twitter with shipping information request within one business day. Winners must provide a valid shipping address within 7 days of the award or the prize will go to the next runner up.
3. CONDITIONS OF PARTICIPATION: All taxes are the sole responsibility of the prize winners. Celeste Thorson is not responsible if a prize cannot be awarded due to delays, technical problems or interruptions due to acts of God, acts of war, natural disasters, weather or acts of terrorism. By accepting a prize, winner agrees to hold Celeste Thorson, its respective directors, officers, employees, assigns, and agencies harmless for any injury or damage caused or claimed to be caused by participation in the Contest and/or acceptance of any prize. The identity of winners, including name and twitter ID (if available) will be posted online and promoted through social networks and other announcements, no shipping address or private contact information will be released to the public. By participating in the Contest, entrants hereby agree to the company's collection and use of their personal information and acknowledge that they accept the above.
4. ADDITIONAL TERMS: Celeste Thorson and Co. reserves the right at its sole and absolute discretion (i) to cancel, terminate, modify or suspend the Contest; and/or (ii) to disqualify any individual it finds, in its sole and absolute discretion, to be tampering with the entry process or the operation of the Contest or website. Celeste Thorson may prohibit an entrant from participating in the Contest or winning a prize if, in its sole and absolute discretion, it determines that said entrant is attempting to undermine the legitimate operation of the Contest by cheating, hacking, deception, or other unfair playing practices or intending to annoy, abuse, threaten or harass any other entrants, Celeste Thorson or customers of Celeste Thorson's online store. Any attempt by an entrant to deliberately damage any website or undermine the legitimate operation of the Contest is a violation of criminal and civil laws and should such an attempt be made, Celeste Thorson reserves the right to seek damages from any such entrant to the fullest extent of the law.